Madi, thank you for agreeing to this interview. With over 15 million daily active users and between 2.2 and 3.2 million monthly broadcasters, many folks are still not aware of Twitch and the streaming community. Give us a rundown of what Twitch is and why you think people are drawn to the streaming service and community. How long have you been streaming?
Thanks for having me Joshua! I have been streaming on Twitch for 3.5-4 years now. I started streaming when I was 17 years old, and I am currently 21. I got partnered on November 1st of 2017. The site has grown drastically in the past year alone, but to think of where it was 3-4 years ago is wild. Twitch is a way to create a community and connect online whilst being entertained. Some watch for professional gameplay, some like to have conversations with the streamer, some like to make friends via communities, some just want a good laugh, and some even a distraction from their life at home/work. For a lot of people, it's a replacement for TV or YouTube. Some people find the content fresher and enjoy being able to connect within a community. Twitch's community aspect is certainly one of its biggest selling points. Another big reason people are becoming drawn to Twitch is because of the monetization issues going on with YouTube channels. It's a safer and more rewarding way to support content creators.
In the last month, you have primarily played Final Fantasy XIV, Sea of Thieves, and Apex Legends. Outside of providing content in the category of Just Chatting, what type of content do you offer viewers? Is it always a newly released game? Any old school games you will always come back to?
I offer content in forms of knowledge towards the gaming industry, debates when under the Just Chatting section (since I love debates and picking people's minds), and comedy. I love to make others laugh, even if it makes myself seem silly. I wouldn't consider this game necessarily "old school", but I always tend to want to go back to DDO (Dungeons & Dragons Online). It was my first MMORPG and released in 2006. It's a game I generally touch on about once a year to see how it's doing since it's still my favorite MMORPG to date, though sadly the community isn't very active/alive anymore. The MMORPG genre always piqued my interest from watching my dad play Asheron's Call. I like to play new MMORPG releases or simply have always tried as many as I can because I find them fascinating. I also enjoy streaming new game releases. Pretty much anything I'm having fun with or catches my eye, I like to try to put out content wise. If I'm having fun, odds are I'm more likely to make people laugh and chill with whatever conversations we have. I am planning to play some older games I've never touched before in the future. I'm also looking into putting out some makeup content on Twitch here soon after my move, and I can't wait. I've talked about it on stream, and I'm excited to be throwing even more content into the mix.
Twitch offers a variety of different incentives for those who regularly provide content for their communities. Why are gamers interested in becoming affiliated or partnered?
There are lots of different reasons people want to become an affiliate or partner. Some do it because it's kind of a mark of honor. It's fun to reach personal achievements. Some see it as a way to make some extra cash and others see it as a step closer to one day being able to go full-time in the industry. With the platform growing, however, the "idea" of partnership has become very misconstrued. When Twitch and Ninja blew up in popularity, his income was a big staple and selling point to streaming and Twitch partnership. The amount of people that think becoming partner equals Ninja's $500,000+ a month income from Twitch or being able to go full-time, just isn't the reality of it. There are lots of partners who cannot do full-time. It varies from case-to-case, but I would advise people to keep in mind that not every partner "makes bank". It's not the reality. It's something you must have a passion for.
I often chat with people who are fascinated that anyone earns extra cash—or makes a career—through gaming. How does someone make money through the Twitch platform? Do you need sponsorship and affiliation to make it worth your while?
So, there are quite a few different ways people can make money as a streamer. I'd say the majority of streamers make most of their money from subscriptions. When you are an affiliate you can make 50% of the sub amount, but you must cover the transaction fee. Whereas, Twitch covers the transaction fee for partners. So, that right that is one major difference. When I was an affiliate, I'd see only $0.15 on some subs depending on where they were from after the transaction fee. Twitch has a whole chart showing the differences of affiliate versus partnership that I recommend if you're going to become an affiliate, to look into. Partners make revenue off subscriptions to their channels and ads that are ran when a person comes to check out a channel as well as partners also have the option to run ads throughout their stream.
Another way partners can earn revenue is depending on the game they are playing, if the viewer wants to purchase the game the streamer is playing, there is an icon below that they can buy the game on and the streamer receives a commission for it. Though, I don't know many viewers in any community who do this.
I would say, most streamers probably make around 30-40% of their revenue via donations/tips (generally through PayPal or credit card via StreamLabs) or bits (Twitch's safe currency to be able to tip the streamer… Ex: 100 bits = $1). This came out as a safe way for donations as chargebacks via PayPal tend to be quite common among scammers. Some streamers have removed being able to donate with credit card or paypal, simply because this used to be such a big problem. PayPal has changed their policy a lot for streamers to help combat this. As for terms of chat experience, bits tend to be more interactive for the community to tip since you earn a chat badge and it creates a chat and on-screen animation.
Streamers themselves can also be approached for sponsorships from companies and negotiate from there. That being said, anymore with how saturated the streaming market is, lots (but not all) of companies tend to not consider a streamer unless they're a Twitch partner. To a company, having the Partnership status is more/less proof to them that they have Twitch's "seal of approval." When companies reach out, depending on if they sell products, streamers can make commission off of the affiliate links or codes they receive. GFuel streamer codes are the most common example. Sponsorships and affiliate codes can help a lot in terms of earning more revenue, as the streaming market is very competitive and saturated. One of the biggest ways streamers can make money as well is off on sponsored game streams. I've been approached for $100-200 since my concurrent average is around 150. However, generally, the going rate for 1,000 concurrent viewers for a sponsored stream can range from about $1,000-$3,000 for a stream. Ultimately the way companies look at it is it depends on how many people they can advertise to, which makes sense from a business perspective. It's cheaper for them to advertise and pay a stream than mass advertise and pay for production sets and so on.
Sometimes, but not often at all, streamers can get paid to be on esports teams (as entertainment might I add, not professionally). I wouldn't say this is a common thing, but I've only been approached and know people who have been discussed to do so with very large organizations. Not all of these fake esports organizations that keep popping up. If you are a streamer considering an organization, keep in mind to ask to see LLC's or other forms of business identification and to always read the fine print. Lots of them try to screw you over and take the revenue you make from streaming. Most of the time esports orgs will not help your channel grow either. Something to keep in mind. As someone who has been screwed over and knows several others who have, don't think that it's going to make you lots of money or grow your channel like most claim. Join a legitimate organization, and make sure you like how it's run and their community before you sign/join anything.
This all being said, to "make it worth your while" depends on the content creator. For example, I personally will not take any sponsorships or join any esports organizations that I do not morally agree with, if the people reaching out are unprofessional, or simply if I don't like their products/team.
What advice would give to new gamers who want to get involved in streaming their gameplay? Do you have any quick tips for building a community around your content?
I would advise new gamers who want to get involved in streaming gameplay to keep their head up. There are lots of toxic people out there who think they are the best at everything and will try to be rude to newer gamers. We call this the "elitest" mindset. Just ignore them. If you're having a good time, that's all that matters.
One quick tip that is essential for building a community is to not be afraid to ban people. One awful viewer hiding behind a username can drive several people from your community away. Also… DO NOT SELF PROMOTE IN OTHER CHANNELS OR ON OTHERS' SOCIAL MEDIA. You will get blocked/black-listed and ruin any potential networking connections SO FAST.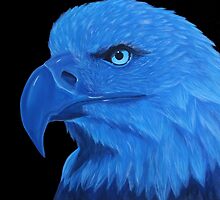 Many of your fans may not realize that you are not only a gamer but also a gifted artist. Do you sell any of your art? Do you have a favorite among your collection?
Thank you! I do sell some of my artwork on RedBubble. My favorite is probably my Blue Eagle. I miss it and may do commissions down the road. If people are interested, they are more than welcome to email kruzadar@gmail.com on ideas and pricing after they check out the art shop if they want something commissioned.
What can we expect from you in 2019? Anything else you would like to add?
In 2019 you can expect to see me playing games I enjoy, playing the new Final Fantasy XIV expansion that's launching in July, goofing around and maybe one day getting better at FPS games (HA), and putting out more creative makeup content on social media and on Twitch.
It has been a pleasure, Madi! Please tell us where fans can find you online.
Thank you for having me Joshua! I stream daily over on Twitch You can find me on all social media via @kruzadar.
I also have an awesome Discord community if there are people looking for others to hang out or game with. Feel free to join!